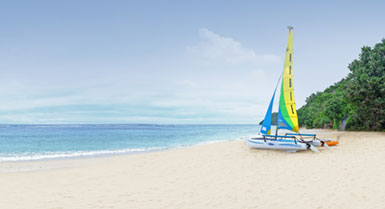 Samabe Beach
Located within Sawangan beach area, at the bottom of the cliff and surrounded by lush rain forest, our private beach with its pristine white sand and clear turquoise water is a sanctuary of natural beauty. It is a magical place for a morning walk just as the sun appears on the horizon. Calm waves, gentle breeze and occasional distant sounds of prayers and rituals from the neighboring Balinese Hindu temple, Pura Barong-Barong, will instantly make you feel relaxed and at ease here; it is just wonderful being surrounded by the peaceful silence one on one with spellbinding Balinese nature. Enjoy Yoga in the morning on the top of the cliff or at the beach. Idyllic, serene view of the ocean meeting the island's tropical flora will soothe your body and mind.
During the day you can snorkel, sail a catamaran, have fun windsurfing, play a game of volleyball with family and friends or just laze around in the sun. At night have a romantic meal on the beach under the starry sky with a choice from our barbeque menu or enjoy a candle light dinner inside our beachside cave.
For your safety the beach is guarded by security staff and monitored via CCTV. There are beach attendants who will gladly assist you with all your needs.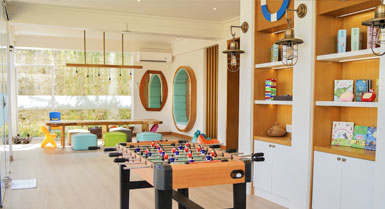 Lumba-Lumba Kids Club
Your children will be continuously amused and entertained in our Lumba-Lumba Kids Club. At Samabe, our day-care staff are not only well trained to look after your most precious ones, but will fully engage at play as well. Activities at Kids Club include various games and quizzes, painting, origami, making necklaces and bracelets, napkin holding, hair braiding, nail art, face painting, temple visits, Balinese dress up and traditional games.
Location:
stand alone near the ponds.
Hours of operation:
Daily 09.00 am till 05.00 pm, for kids from 2 to 8 years of age. No reservation is necessary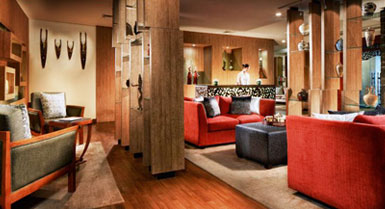 Hospitality Lounge
For the convenience of our guests, the resort provides Samabe Hospitality Lounge with the early check-ins and late check-outs. It consists of a lounge area, a mini cinema, a small meeting room, a library and three shower facilities. The lounge is attended by resort staff at all times and available on 'first come first served' basis. Guests who travel in team for travel purposes or participants in the events or conference may utilize the small meeting rooms as the temporary headquarter. The meeting room can host up to 8 persons.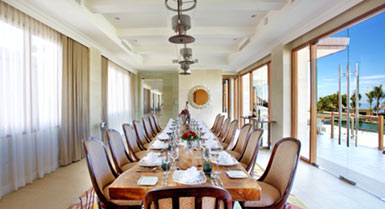 Business Facilities
Nusa Dua is the preferred destination for most business travelers when attending international conferences in Bali. With its Canang Room and Banten Room, Samabe is well prepared to cater for such business events. Canang Room is a large ballroom, suitable for conventions, seminars or gala dinners, and can accommodate groups of up to 80 people. Banten Room is perfectly suited for smaller events, such as meetings and business lunch or dinner. Available with banquet service, both venues are fully equipped with conference facilities including sound system, projector, screen, flipchart, whiteboard and microphones.
In addition we provide a computer and printer in the Hospitality Lounge for your convenience. Fax facility is available at extra charge. The meeting room in the Hospitality Lounge, which can host groups of up to 8 people, can be used as your temporary headquarters, if you are travelling in a group.
Read More »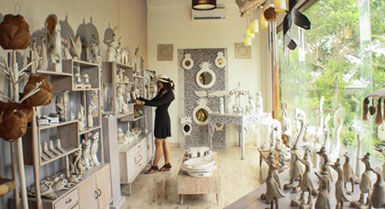 Boutique & Drugstore
"Timeless by Koza", Samabe Resort's boutique & drugstore offers you a selection of gifts and souvenirs nowhere else found in Bali. Our boutique attendant will be happy to advise you with all your shopping needs.
Location:
Nearby the lobby area
Hours of operation:
08:00 – 20:00