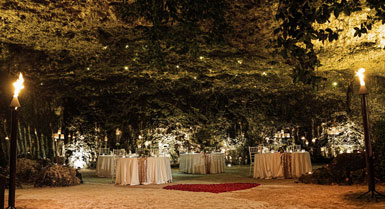 Cave Dining
Stellar cuisines, unique ambiance and impeccable beach view, Samabe Cave Dining is a proof that you can find everything in one scene. Located inside the cave that stretches across the white sandy beach is giving a different experience to our diner. Our diner can expect a spectacular taste from the menu, offer 4 courses from Soup to Dessert. Warm up your body with a succulent Rich Shellfish Bisque or Indonesian Oxtail as a soup, then continue to starter where you can opt a prawn with quinoa or go for the vegetarian menu. Savor delightful main courses, either pick the prime cut beef, seafood, surf & turf or vegetarian. It's a delightful way to end your night.
read more »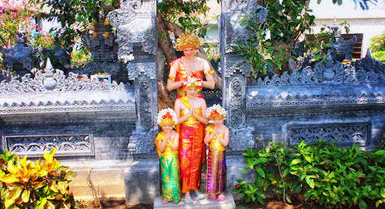 Balinese Costume
You may have seen a lot of Balinese people still wearing their traditional attire whenever the ceremony or event are happening or even on daily basis. It depicts that Balinese culture is still preserved until now. Every region in Bali has their own style and is differentiated into men and women.
For those who love to have pictures in Balinese costume as a remembrance, Samabe Bali Suites & Villas provide them what they need. The butler will assist them to dress up, and this luxury Bali resort provides photographer to take the pictures in the resort area. 24-hour in advance reservation is needed. Price starts from US$85/adult and US$55/child for children below 12 years.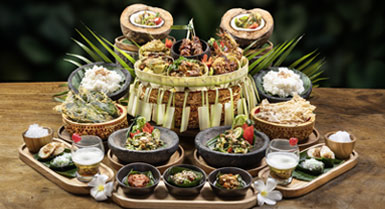 Rijsttafel Dinner
Rijsttafel Dinner is a medley of Indonesian meal inspired by the inland Dutch during the colonial era. It is used to serve some of most well-known local cuisines at one time that specially prepared only for Dutch officials and they can impress their family or friend from overseas.
At Rempah-Rempah Restaurant, our Executive Chef will present 10 local best dishes from starter to dessert, starting from Gado-Gado or so called Indonesian Salad with various vegetables and served with a peanut sauce as a dressing. The next dish will be Balinese vegetable or named Jukut Ares, it is a vegetable dish that uniquely made from banana stem in savory broth. The feast has not reached the end yet, your main course will be spoiled with Ayam Sisit or shredded chicken tossed in aromatic and spicy herbs, Be Sampi Base Bali made from beef with Balinese spices, Pepes Tuna that is wrapped in banana leaf and it's cooked by steam or grill on the charcoal that allows all the spices and herbs mixture together, and last but not least, Sate Lilit that is originated from Bali made from minced meat, chicken or fish.
After all those goodness are served, the Trio of Classic Indonesian Desserts consist of Fried Banana, Klepon or a Javanese dessert made from rice flour and stuffed with palm sugar and the most popular Indonesian sweet porridge or Bubur Injin, made from black sticky rice with coconut milk and Pandan scented. All of these desserts are perfect to end this culinary journey at Rempah-Rempah Restaurant.
It is truly culinary escapade!
Download Rijsttafel Dinner menu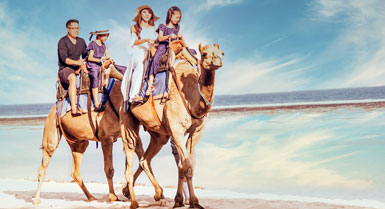 Camel Riding
Enjoy a new experience by riding the camel and enjoying the beach view. Strolling along the beach in Bali on a camel will definitely be an unforgettable experience for you.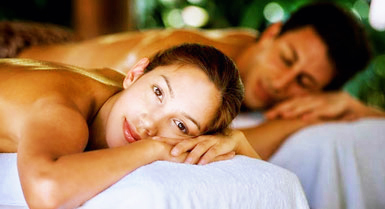 60 Minutes Massage
Find your balance inside and out by experiencing 60 minutes massage in the privacy of your suite or villa is available from noon until 20.00 hour for adult and 30 minutes for children.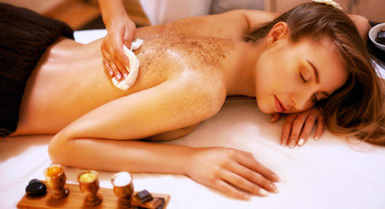 Body Scrub
60 minutes body scrub at the Galangal spa for adult only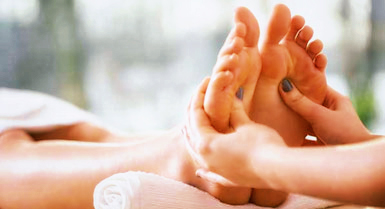 Foot Reflexology
30 minutes sunset foot reflexology at the pool side area ( weather permitted)