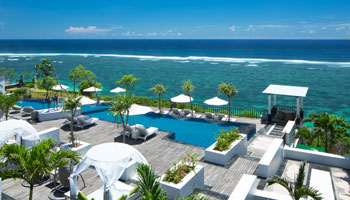 Background
Located on top of the picturesque cliffs of southern Nusa Dua, Samabe boasts magnificent uninterrupted views of the Indian Ocean. The prestigious Nusa Dua is famous for being a large enclave of International five stars hotels and resorts. Over the years it has gained a reputation as the host to many international conferences and events, Nusa Dua is proud to be recognized as the world's destination of luxury travel.
Featuring just 81 suites and villas stretched within eight hectares of land, Samabe offers spacious accommodation and strongly remarks itself as a peaceful resort. It stands out for its serenity and privacy, differentiating itself as a memorable retreat Bali getaway. Positioned within a close proximity to Barong-Barong Temple, it is a truly exotic destination surrounded by lush tropical rainforest with a private white sandy beach on its doorstep; just a perfect place for a quiet and relaxing vacation or a romantic honeymoon.
Architecture
Designed by Bensely Studio Thailand, Samabe Bali Suites & Villas resort is both modern in form, as much as Balinese in thatched roof-structures and other architectural details. It comprises of suites apartments as well as villas with private swimming pools.
Taking full advantage of its location on top of a cliff, the resort spreads down the hill over several terraces, offering stunning views of the natural surroundings: mostly the ocean! Interiors – bright, spacious and very private – are designed in such a manner as to open through large windows and balconies on picturesque landscapes and panoramas around.
Meet the General Manager: Mr. Ralf Luthe
Mr. Ralf Luthe started his professional hotel career with Four Seasons Munich, Germany when he was only a teenager. At age 20 he began his journey outside Germany as he joined luxury resort operations in London, Paris, Abu Dhabi, Singapore, and Thailand.
He arrived in Bali in 1987 to work at Putri Bali Hotel as a chef. In 1990 he worked for Grand Bali Beach, and in 1991 he was transferred to the sister property in Manado as Food & Beverage Manager. In 1992, he returned to Grand Bali Beach as Food & Beverage Manager and Resident Manager.
In January 1993, Mr. Luthe accepted a new challenge as General Manager at Grand Mirage Resort & Thalasso Bali. For over 18 years he showed his tremendous work and dedication to this resort that has a good list of accomplishments. Another challenge came in late 2011 from Samabe Bali Suites & Villas – Grand Mirage's sister property.
The energetic gentleman is given the opportunity to lead the opening team and operate the new Bali 5-star luxury resort. Balinese hospitality is one of the strong highlights that guests will experience at Samabe Bali Suites & Villas. "I want to give our guests a top 5-star luxury experience," Mr. Luthe said. But it doesn't stop there. At Samabe, guests will be invited to "Uncover the ancient secrets of Balinese Culture" with a wide selection of Balinese cultural leisure activities which have been designed to bring guests closer to the Balinese culture, arts, tradition and sacred rituals. Under the leadership and craftsmanship of Mr. Ralf Luthe, Samabe Bali Suites & Villas can expect an up-and-coming future.