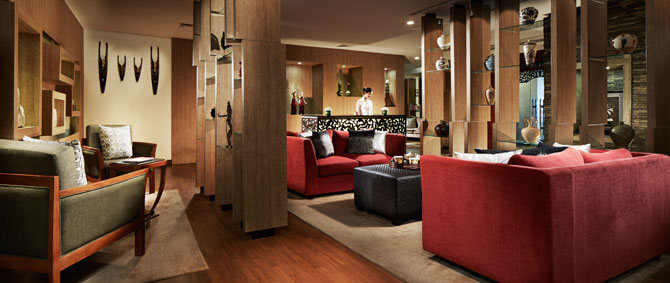 After a long travel through a number of time-zones you may be arriving in the early hours of the morning before the check-in time. Wouldn't it be fabulous to have somewhere to take a shower and relax after the long journey? On the other hand, your flight may be departing late in the night, well after your check-out. Wouldn't you like to take advantage of the last day of your holiday rather than "sit on the suitcases"? At Samabe you can begin your vacation right away by leaving your luggage in our Hospitality Lounge or you can use the area just to rest after a long flight. You are also welcome to enjoy the amenities before you leave for the airport. Have fun on the last day of your getaway without having to pay for the extra night's stay.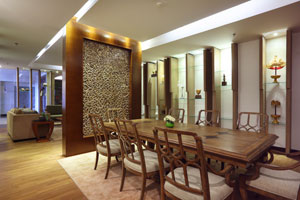 Although Samabe Hospitality Lounge is designated predominantly for early check-in or late check out, the area can be enjoyed by our guests at any time. Here you can read books or magazines from our library, watch a movie in the mini cinema room or hop on the internet. If you're on a business trip or attending a convention with a group of people, you can utilize the small meeting room, which can host up to 8 people, as your temporary head-quarters.
Samabe Bali Suites & Villas
 is a 5-star world-class beachfront resort uniquely situated on top of the cliffs of southern Nusa Dua, boasting magnificent, uninterrupted views of the Indian Ocean. It offers a whole new all inclusive concept of luxury called "Unlimited Privileges." The benefits include a full gamut of premium meals and beverages, 24-hour butler service, a wide selection of signature activities, entertainment, spa treatments, return airport limousine transfers, and more. The resort features 81 suites and villas, 2 restaurants & 2 bars, a glass wedding chapel and other outstanding venues. At Samabe guests are invited to uncover the ancient secrets of Balinese culture with a whole host of leisure endeavors. 
Samabe Bali Suites & Villas is member of Samabe Leisure, a collection of resorts, spa and theatre. Samabe Leisure features Grand Mirage Resort & Thalasso Bali, Club Bali Mirage, Samabe Bali Suites & Villas, Thalasso Bali, and Bali Nusa Dua Theatre.