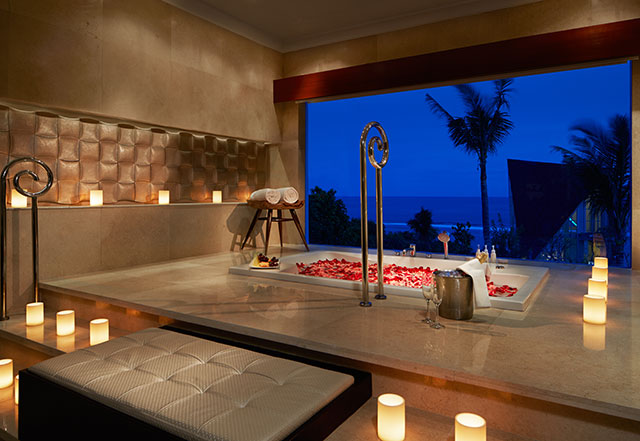 Romance Blossoms at Samabe Bali Suites & Villas
Located right on a beach in Nusa Dua, Samabe Bali Suites & Villas is a high-end resort that is the very definition of VIP accommodation. If are looking to splurge on luxurious accommodation for your romantic Balinese holiday, then you won't find a place better than Samabe Bali. Surrounded by tropical rainforest with its own private, white sand beach, Samabe Bali is renowned for its tranquillity and privacy. It is an ideal choice for those who want a quiet and relaxing holiday where you can let the love blossom.
Endless Ocean Views
Nothing induces romance more than ocean views and you will be glad to know that Samabe Bali offers stunning views of the Indian Ocean. All of the rooms and villas overlook the ocean, so you can enjoy the view wherever you are. The resort's restaurants also have ocean views, so you can enjoy the finest dining while looking out at sparkling blue. The hotel also offers extra luxuries that you won't find in many of the nearby resorts. For example, it offers a personalised butler service that will tend to any requests you may have. You can even request a private beach picnic on the whiter then white sands of our private beach, we'll set up the romantic pergola setting for you. If you're thinking of proposing on your holiday, it's hard to imagine a better place.
Secluded Location in the Heart of Bali
We guarantee you the privacy you need to get to know your beloved on a deeper level, but that doesn't mean you are completely cut off. Samabe Bali is within close proximity to all nearby places of interest. These include Museum Pasifika art museum, Bali National Golf Club, Mengiat Beach, Pandawa Beach, Bali Collection Shopping Centre, and Puja Mandala. It is also close to Barong-Barong Temple, a 'must-visit' of the Nusa Dua region. Many of our guests choose not to venture too far however, preferring to make use of our exceptional facilities. For those looking to spend the day around the resort, there is an extensive list of activities available to choose from. You can partake in water sport activities such as windsurfing, charter boat/cruise tours, diving, fishing and kayaking. Immerse yourself in the local culture by taking a Balinese dance lesson, cultural lesson, or cooking class, where you will learn to cook authentic local dishes. Simply spend the day soaking up the sun and atmosphere on the resort's private beach. As it gets dark, you can enjoy a barbecue meal on the beach under the stars or in the beachside cave. With its romantic ambiance, luxury, wide range of activities and proximity to local attractions, staying at Samabe Bali is a memorable experience. For these reasons we were recently featured in an article by Expedia on the best places to 'love' in Bali. Get more inspiration for a loved-up trip with the article, '
Eat in Italy, Pray in India, and Love in Bali
'