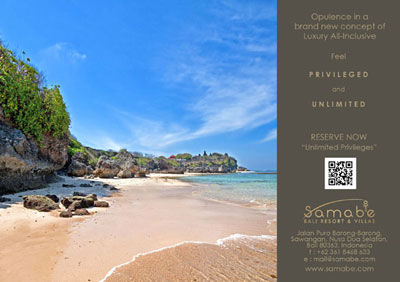 Samabe Bali Suites & Villas – soft launching on June 1, 2013 – is the first luxury Bali resort to offer the fresh concept of luxury all-inclusive. All guests at Samabe receive standard benefits called "Limited Privileges", which include daily breakfast; daily free flow of fresh juices, soft drinks, coffee & tea; daily afternoon tea; daily fresh fruit platter; 24-hour butler service, unlimited use of non-motorized water sports and more. Mini bar is refilled daily, and Wi-Fi connection is available in all guest suites or villas and in public areas at no additional charge.

Guests can also have access to all resort facilities, such as main swimming pool, fitness centre and gym track, and all scheduled activities, such as cliff yoga and taichi. Guests who wish to take the luxury experience to the maximum the resort offers can sign up to the Unlimited Privileges that will give them all of the standard benefits plus additional list of premium benefits, at a surcharge.

Unlimited Privileges

Samabe Bali Suites & Villas comes forward with the concept of luxury all-inclusive called the Unlimited Privileges, whereby guests enjoy all of the standard benefits, plus:
Daily Cocktail Hours, including beers, house wines, and standard spirits from 17.00 hours onwards till midnight
Daily 24-hours selection of Gourmet, Organic, Mediterranean or Balinese Cuisines served either in suite, villa, or anywhere within the resort (except Gala Dinner on the 31st of December)
Daily one Samabe Signature Activity of guest's choice
Unlimited laundry service (except dry cleaning)
Late check out until 16:00
With a minimum of 3-night stay, the privileges continue with the followings:
Balinese Food Experience, including Private Rijstaffel or Suckling Pig dinner at guest villa or suite
Daily 6 hours complimentary use of meeting room and facilities
Return airport limousine transfer & immigration assistance at Bali airport (excluding any fees, such as visa on arrival). This particular benefit applies for direct booking or website booking only.
Samabe Signature Activities
A combination of sport, wellness and cultural activities are designed to give Samabe guests a full swing of leisure indulgence. A selection of 14 Samabe Signature Activities can be chosen daily, inclusive of the Unlimited Privileges:
Village Safari Tour with surprise courtesy
60-minute massage at suite/villa
60-minute spa treatment of your choice at Galangal Spa
Balinese cooking class, available every Monday, Wednesday and Friday
Private chauffeured drive to Kuta and Kerobokan shopping areas up to 5 hours
Reserved VIP seat at "Devdan: Treasure of the Archipelago" in Bali Nusa Dua Theatre, plus back of the house tour
Seawalker
60-minute Thalasso Aquamedic Pool
Private snorkeling tour to nearby Samabe reef
Sunrise beach and village adventure walk with coffee and fruit tasting
Batik painting class
Balinese costume dressing and picture taking
Guided village bicycle tour
Private sunset tour to Uluwatu followed by Rijstaffel Dinner
Some of the activities are for adults and children at certain ages. Advanced bookings are highly recommended. For detail information, please check 
here
 or email us at 
mail@samabe.com
.
Samabe Bali Suites & Villas
 is a 5-star world-class beachfront resort uniquely situated on top of the cliffs of southern Nusa Dua, boasting magnificent, uninterrupted views of the Indian Ocean. It offers a whole new all inclusive concept of luxury called "Unlimited Privileges." The benefits include a full gamut of premium meals and beverages, 24-hour butler service, a wide selection of signature activities, entertainment, spa treatments, return airport limousine transfers, and more. The resort features 81 suites and villas, 2 restaurants & 2 bars, a glass wedding chapel and other outstanding venues. At Samabe guests are invited to uncover the ancient secrets of Balinese culture with a whole host of leisure endeavors. 
Samabe Bali Suites & Villas is member of Samabe Leisure, a collection of resorts, spa and theatre. Samabe Leisure features Grand Mirage Resort & Thalasso Bali, Club Bali Mirage, Samabe Bali Suites & Villas, Thalasso Bali, and Bali Nusa Dua Theatre.