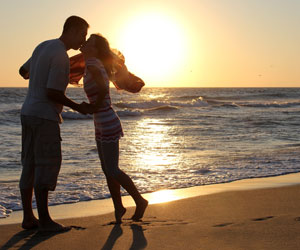 A small token of appreciation for birthday or honeymoon – ranging from bouquet of flowers, chocolate praline, to a small cake – is a common thing guests can expect from a 5-star resort. Now if you are on a honeymoon, or if you are having a birthday while you are staying at Samabe Bali Suites & Villas, you have the choice from seven complimentary options to give your special day a sweet little touch.

One bottle of sparkling wine in your suite or villa upon arrival
This is a refreshing way to ignite the night of celebration with your loved one. And then, an in-suite dinner to follow?
Love swan with flowers on the bed upon arrival
A love swan will greet you as you step into your bedroom. A typical yet sensual touch to set a romantic atmosphere to mark your romantic getaway with.
Romantic surprise flower decoration in your suite or villa upon arrival
You can arrange to have a flower decoration prepared prior to your check in to give your partner a lovely surprise.
Romantic lagoon lunch picnic
Are you up to something charming to celebrate your birthday? How about with this romantic lagoon lunch picnic for you and your loved one? It's going to be anything but ordinary for both of you.
Aroma flower candle bath upon arrival
An intimate moment is created as soon as you begin your romantic journey at Samabe with an inviting aroma candle bath on your arrival.
Samabe signature chocolate and canapés
Are you sweet-toothed? We have something sweet for you with a wish that your entire holiday experience will be as sweet as the moment.
Chocolate fondue prepared by your butler at requested day and time
Chocolate fondue for two is a heartwarming way to wish a happy day for more happy years to come.
Don't miss this exciting opportunity, and take your pick! Let your butler know what you wish to have and we'll make the moment for you. Reserve your romantic getaway now and redefine luxury with Samabe. Samabe Bali Suites & Villas will open its welcoming door for you in February 2013.
Samabe Bali Suites & Villas
 is a 5-star world-class beachfront resort uniquely situated on top of the cliffs of southern Nusa Dua, boasting magnificent, uninterrupted views of the Indian Ocean. It offers a whole new all inclusive concept of luxury called "Unlimited Privileges." The benefits include a full gamut of premium meals and beverages, 24-hour butler service, a wide selection of signature activities, entertainment, spa treatments, return airport limousine transfers, and more. The resort features 81 suites and villas, 2 restaurants & 2 bars, a glass wedding chapel and other outstanding venues. At Samabe guests are invited to uncover the ancient secrets of Balinese culture with a whole host of leisure endeavors. 
Samabe Bali Suites & Villas is member of Samabe Leisure, a collection of resorts, spa and theatre. Samabe Leisure features Grand Mirage Resort & Thalasso Bali, Club Bali Mirage, Samabe Bali Suites & Villas, Thalasso Bali, and Bali Nusa Dua Theatre.