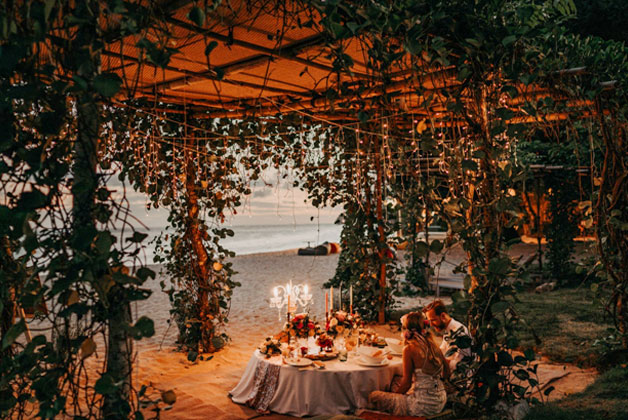 (Bali, 2020)
– Samabe Bali Suites & Villas is taking care of your romance on this Valentine's Day with a heart-throbbing dinner available in 4 different venues at your choice.
To create a special Valentine's Dinner affair that will allow you to set the romantic mood and strengthen your love, our culinary team have well-prepare a delectable dining indulgence. Starting from The Pearl Chapel Dinner just the two of you, join romantic dining at the Crystal Blue Ocean Grill, or a barefoot romantic dinner in the Samabe' Gazebo Beach.
The Pearl Chapel Dinner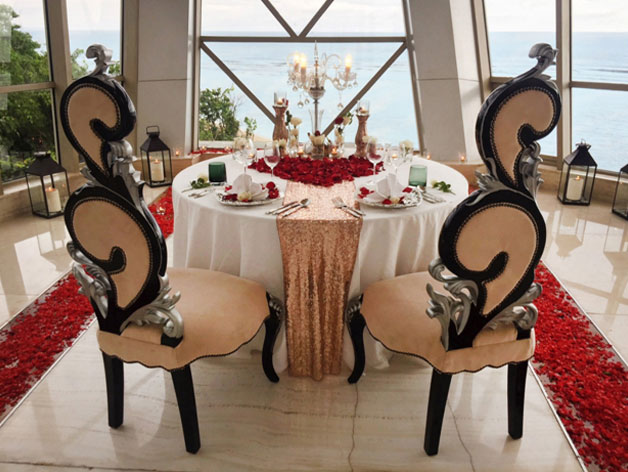 The famous Pearl Chapel Dinner is now available with an elegant concept and décor where they would get an absolute luxury ambiance inside the chapel.
Whether creating a full evening of fine dining or slipping away for a few hours of simple relaxation with friends, the atmosphere of this exceptional destination allow guests to design their own escape. With a passion for good food, our culinary team is the creative behind the delightful dishes. The private waiter or waiter will drag the seats to allow the couples to sit on chairs with flowers round in front of them. The table is covered luxury colors with red rose petals spread on it. Then, they will see the best thing about the dinner, which is the marriage of turquoise ocean view, and dark blue sky that they can enjoy when they are sitting on their chairs. The dinner is at its best at 18.00 to 22.30 hours.
Crystal Blue Ocean Grill
Samabe Bali Suites and Villas showcases a romantic decoration with thousand lit candles. The dramatic setting is located atop of the cliff overlooking the azure Indian Ocean. This year dinner will be very special at Crystal Blue Ocean Grill while enjoying the Ocean Breeze, the guest can rekindle their love in this stunning ambiance.
The 4-courses set menu attempts to bring the sensuous delight of the sea to the dining table. All dishes are freshly cooked at the beach while the couple is enjoying the breeze, such as succulent prime cuts BBQ or seafood or special dishes for those vegetarians. To end the moment sweetly, the Chef presents Sticky Thai rice pudding with fresh mango
Gazebo Beach Dinner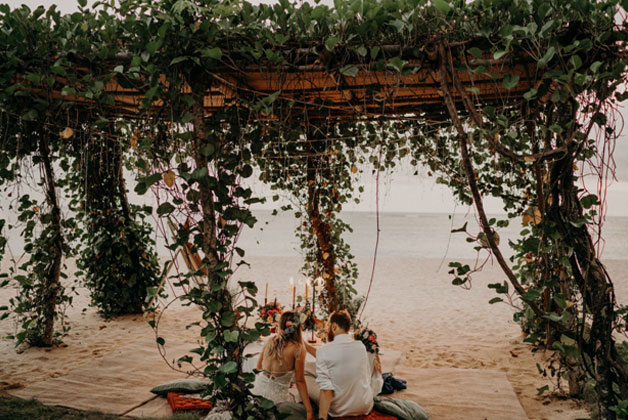 Romance your loved one and your palates with a unique experience by the beach under a rustic pergola and candle lit. Toast the night with good drinks and spoil your taste buds with memorable 4-courses menu for two. Price starting from IDR4,800,000/couple, you can let your romance blossoms with a timeless atmosphere, amazing amenities and delightful cuisines. For booking please send us an email to events2@samabe.com or contact us to +62361 8468633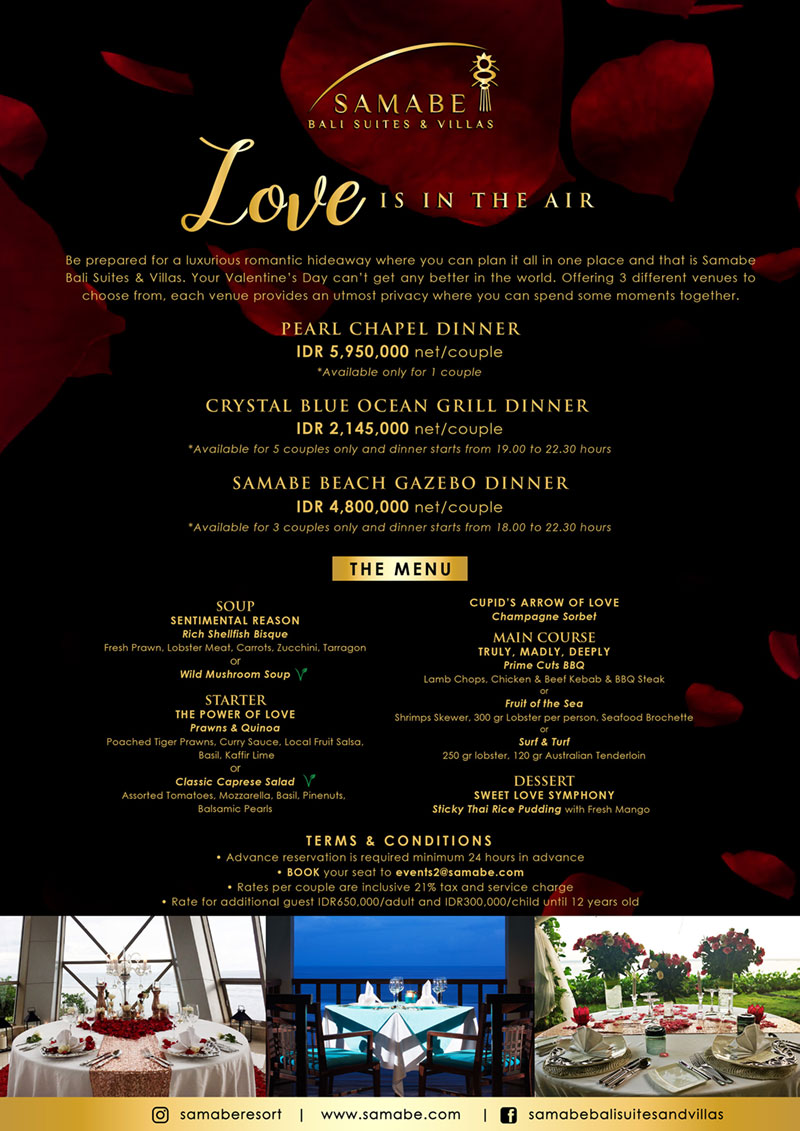 About Samabe Bali Suites & Villas
Samabe Bali Suites & Villas, a luxury all inclusive resort, sits atop of the southernmost cliff of Nusa Dua. Introducing a new concept of all-inclusive package called "Unlimited Privilege", it offers unsurpassed luxury with unlimited food and beverage, Samabe Signature Activities, high quality amenities and facilities through its 81 suites & villas, private service from seasoned butler, and more. Samabe Bali Suites &Villas takes a stab at highlighting its guests' vacation in Bali.