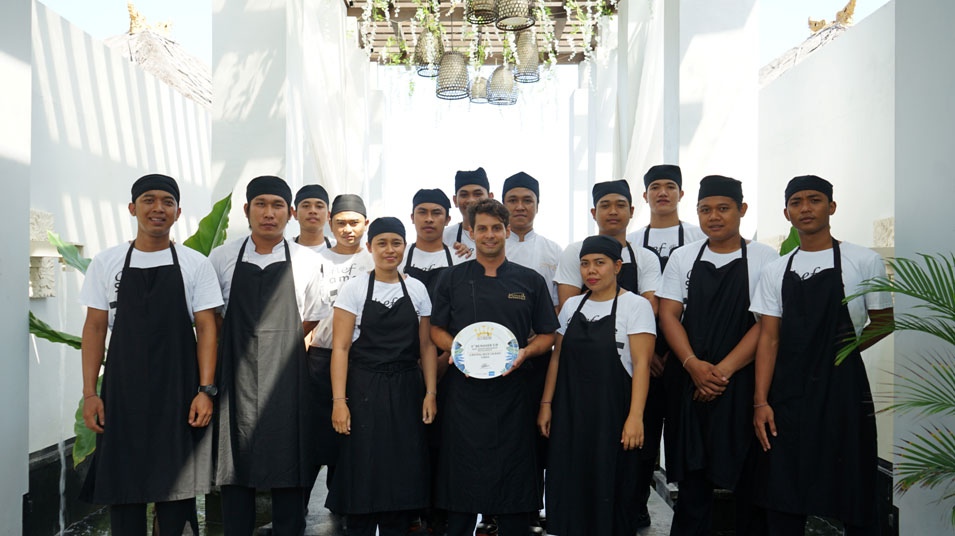 (Bali, October 2019) - This year remarks as the best year for Crystal Blue Ocean Grill Restaurant as it has been successfully selected as the 1st Runner Up for the Best Seafood Restaurant in the Best Restaurant, Bar and Café Awards 2019 by Now Bali Magazine.
This prestigious awards is regularly held every year to recognize those industries, be it from standalone restaurant, hotel and resort restaurant, bar, café, beach club and all the Food & Beverages outlet that offer high quality standard, the authenticity, interesting selections and service excellence.
"We are all so produce by receiving this awards, as it is our 1st year we got the recognition as the Best Seafood Restaurant. We just changed the concept and added lots of new menu that will entice all the guest' palate, and I am so proud that Now Bali Magazine recognized our hard works by giving this highest recognition. Not to mention, best gratitude goes to all our guests and most important to all our staff" Said Mr Ralf Luthe, General Manager Samabe Bali Suites & Villas.
He also added "By having this award on my hand, I would declare that we won't stop to expand new innovations and continue to grow in order to deliver stunning service and culinary journey to all our valued guests"
About Samabe Bali Suites & Villas
Samabe Bali Suites & Villas, a luxury all inclusive resort, sits atop of the southernmost cliff of Nusa Dua. Introducing a new concept of all-inclusive package called "Unlimited Privilege", it offers unsurpassed luxury with unlimited food and beverage, Samabe Signature Activities, high quality amenities and facilities through its 81 suites & villas, private service from seasoned butler, and more. Samabe Bali Suites &Villas takes a stab at highlighting its guests' vacation in Bali.