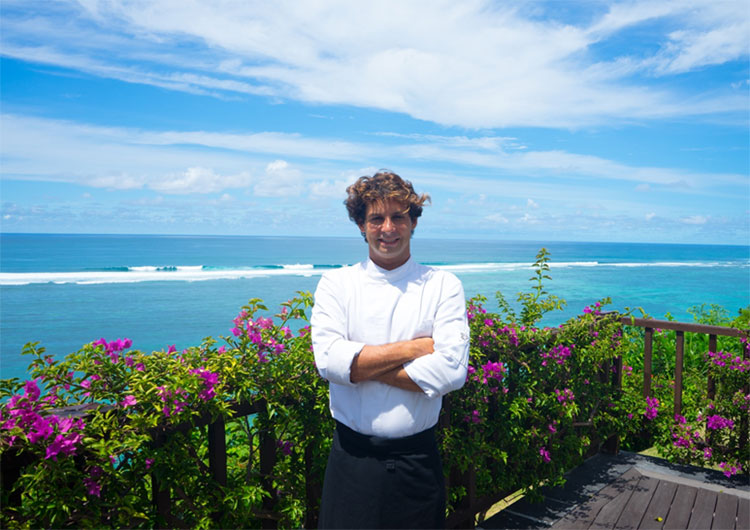 (Bali, April 2019) - Samabe Bali Suites & Villas is located atop the cliff of Nusa Dua, the southern part of Bali or well known for its luxury All Inclusive concept, announces the hiring of a new Executive Sous Chef, Juan Pablo Marquez as he will lead the culinary team of Crystal Blue Ocean Grill. He will also be responsible for the restaurant's menu, quality and standard.
Chef Juan brings over 10 years of top-notch culinary experience to his new role. By holding a degree, specializing in the area of culinary art and wide backgrounds, starting from the Grand Hotel Park in
Switzerland, Stagier – The Ledbury London, Park Gstaad Hotel Switzerland, W Hotel Barcelona, and Mandarin Oriental Hyde Park London, it gives Chef Juan a plethora of knowledge and luxury culinary experience.
"We are super excited to bring Chef Juan on board" explains Ralf Luthe, the General Manager of Samabe Bali Suites & Villas. "He possesses such an incredible mixture of experiences and education, I believe by his undoubted skills, it could be a great asset to our restaurant and further enhance the dining experience we offer to all our guests"
"It is such a wonderful challenge for me as it is my first time residing to the Island of God and requires me to work in such a beautiful ambiance" Adds Chef Juan Pablo enthusiastically "I always try to give more life to my creations, it is the most important thing that will create good memories to all my guests by using fresh and seasonal ingredients. Not to mention, new cooking techniques and food presentation are also becoming key points for the guests nowadays. If you could fulfil those points then it would be easier to attract diner to our restaurant and keep them as our loyal patrons"
With his enthusiastic and proactive attitude in this capacity, Chef Juan looks forward to explore his creativity and will share his knowledge in culinary industry.
About Samabe Bali Suites & Villas
Samabe Bali Suites & Villas, a luxury all inclusive resort, sits atop of the southernmost cliff of Nusa Dua. Introducing a new concept of all-inclusive package called "Unlimited Privilege", it offers unsurpassed luxury with unlimited food and beverage, Samabe Signature Activities, high quality amenities and facilities through its 81 suites & villas, private service from seasoned butler, and more. Samabe Bali Suites &Villas takes a stab at highlighting its guests' vacation in Bali.