(Nusa Dua, 21 December 2015)--Samabe Bali Suites & Villas announced that it has been mentioned the Indonesia Leading Luxury Villa in Indonesia Travel Tourism Award 2015. Proclaimed as the winner of Luxury Travel Guide back in the end of November, the all inclusive Bali resort has proven its highest standards amongst thousand resorts in Indonesia.
Honored in the awarding night at big hotel in Kuningan, Jakarta, on Monday, 24 December 2015, it has the opportunity to stand in front of the key people of hospitality industry from all over Indonesia as well as the government.
"Being declared as part of tourism industry in Indonesia in the second year is a pride for us. We put much effort to serve beyond our guests' expectancy. As an Indonesian resort, we introduce cultural activities in our resort."
said Mr. Luthe, the General Manager of Samabe Bali Suites & Villas.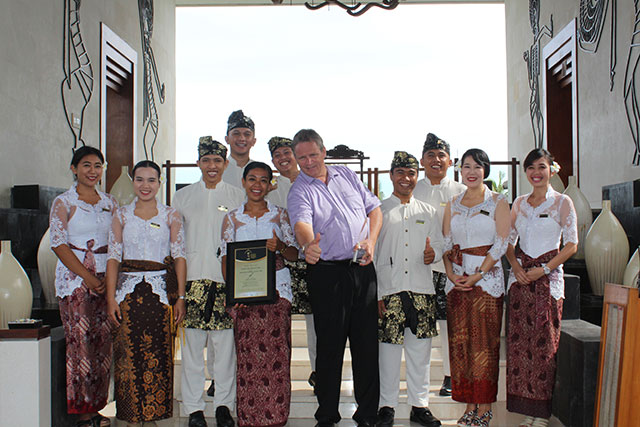 Samabe team and the ITTA crystal award
Samabe Bali Suites & Villas is blessed with the perfect marriage of white sand beach and turquoise ocean that can be viewed from each villa and suite. Highlighting 41 villas with infinity pool to the Indian Ocean, the resort redefines a luxury stay.